Hosted By:
---

Alpha Class for 2019 will be an aircraft design competition and exposition. Teams are invited to
demonstrate their ability to quickly design, develop, and test a fast attack / sensor deployment UAV. Each team will perform flight demonstrations of their prototypes, as well as host an exposition of their design to industry judges as well as spectators.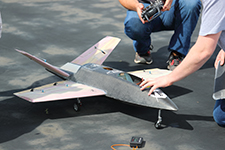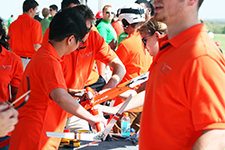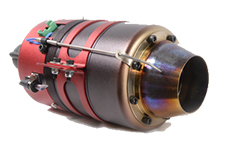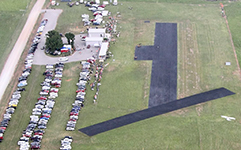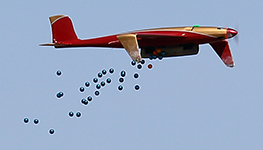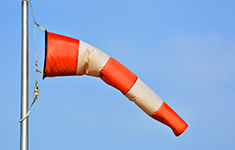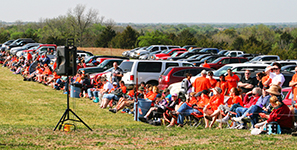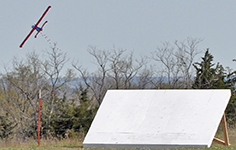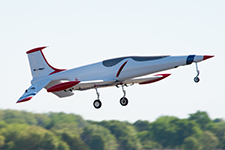 Contents:
Objectives
Flight Procedures and Scoring
Event Safety Requirements
Contest Day Information
Eligibility
Entry Form Format
Deadlines
Speedfest Site
FAQ's
Objectives

Teams are invited to respond to the following Statement of Work (SOW): Speedfest IX SOW

Latest Document Revision 30 August, 2018




---
Event Safety Requirements
Safety must be the number one priority of all contest participants. The Speedfest organizers have gone to great lengths to keep the event safe for participants and spectators. Please carefully note the following:
Contestants are expected to conduct themselves, and operate their aircraft in accordance to the AMA Safety Code. (the following link contains all AMA documents including the Safety Code: http://www.modelaircraft.org/documents.aspx)
Every person beyond the spectator line (including officials), must wear a helmet approved by OSHA, DOT, ANSI, SNELL,NOCSAE or other recognized organization that certifies safety equipment. There is a very wide variety of helmets that meet these criteria including; skateboarding helmets, bicycle helmets, construction hard-hats, etc.
Any flight crew member involved with starting the aircraft engine at any time (flightline or pits), Or holding the plane at runup/start, must wear official safety glasses and hearing protection (earplugs or earmuffs designed for hearing protection)
Flight Crew: Required minimum flight crew is 4 members (Pilot, Caller, and 2 Flagmen). Beyond that, the number and makeup of the flight crew is at the discretion of each team, however it may consist of a maximum of 7 team members. Functions of flight crew members may be combined if desired. All must verify current AMA membership at the event. Typical flight crew functions include:

Caller: Stands by the pilot to call turns.
When a team number is called for a flight, only flight crew may enter the field beyond the spectator area.
All aircraft to be flown must go through an airworthiness inspection.
All team members, who attend the event should be AMA members. It is the opinion of the organizers that all team members, must be committed to the AMA safety code when designing, building, and flying, unmanned aircraft.
Teams must have a CO2 fire extinguisher
Airplanes may not be run up on the mat runway to avoid burning through the mat.
Pilots
---
Contest-Day Information
Mandatory Items to bring:
Current AMA membership cards for flight crews
Proof of flight outlined in SOW

Helmets, safety glasses, hearing protection, and gloves for Flight Crew listed above.
CO2 Fire extinguisher
Registration


During the designated time on the day of the event, flight crews must register. Speedfest officials will then provide each with a flight line pass. Registration consists of the following:

Flight crews must each show proof of current AMA membership
Flight Sequence
Teams will be assigned a queue number.
Numbers will be called in sequence from 1 to n
Only teams that are called to the flight line may pass the spectator line and enter the course. They must wear the appropriate safety gear.
Speedfest Marketing Video Award



Speedfest Teams that create promotional videos have the opportunity to be recognized at the event, and to receive awards. Videos can promote: their team, airplane, university, country, Speedfest, or any combination of these in an entertaining and informative way.

Guidelines:

Videos may be no more than 2 minutes in length total.
May not refer to specific competitors teams in a negative light.
May not contain material considered to be obscene by professional standards.
Royalty-free music is preferred. Teams should test their videos on YouTube so that they are not removed or muted due to copyrighted music.
Teams will send the YouTube link to their videos to SpeedfestAero email address no later than 7pm CST Monday,April

22
, and the winner will be chosen by an appropriate method of electronic voting. There are no restrictions on who may vote. Votes will be accumulated from April

22

, until Speedfest contest day.
---
Eligibility
Speedfest Alpha Class team entries must be pre-approved by the Speedfest coordinators
To compete, teams must have a pilot with an AMA Turbine Waiver
Aircraft must have flown AMA Waiver maneuvers safely before the event, or teams will be not be allowed to participate.
All team members should be current AMA members. Flight crew

must

be AMA members.
---
Entry Form Format
For each team entered, send a separate email with the following information in the following format:
- Academic institution name
- Team Name
- Team Contact email
- Team Advisor email
- Team Pilot email (if Speedfest pilot not being used)

In the

Subject line

of your email write: "Alpha Class Speedfest Entry Request, (Team Name), (date)"



Subject line example:

Alpha Class Speedfest Entry Request, ZSU Zebras, 21Sept2012
Send entries to:

---
Deadlines
Teams may enter at any time.
Additional deadlines are listed within the SOW.
Optional Promotional Video due no later than date listed above.

---
Contest Site
Speedfest is held at the Unmanned Aircraft Flight Station (UAFS) in Stillwater, Oklahoma.
GPS Location: lat=36.1632229 lon=-96.836514
Stillwater Oklahoma is approximately 75 miles from two major airports: Tulsa International Airport in Tulsa, OK, and Will Rogers Airport in Oklahoma City, OK.

Airfield Directions:

From

all

directions, the best way to get to the UAFS is to drive to the intersection of Hwy 51 (E 6th st.) and N. Clay Road (bulls-eye in map below). Then take Clay road north approximately 3.2 miles. The UAFS is just north of the intersection of N. Clay Rd. and E. Airport Rd.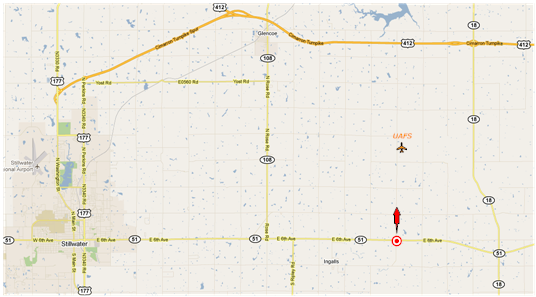 FAQ's
Q:

?


A: .