Hosted By:

University Multispectral Labs (UML), Oklahoma State University, NASA OK Space Grant Consortium, Zivko Aeronautics, Spirit AeroSystems, AUVSI
---
Speedfest is an exciting, high-speed aircraft design competition which is intended to foster enthusiasm for aviation, and unmanned aircraft design. There are two flight classes:

Alpha Class

is the

A

dvanced class which is open to all collegiate-level teams.

India Class

is the

I

nvitational class. It is open to high-school level teams on an invitational basis. The top 3 teams in each class will be recognized with awards. The winners of each class will be awarded the Speedfest Cup.
India Class News and Answers to Questions
Suggestions
for India Class Teams and Teachers
Contents:
Mission Requirements and Design Constraints
Flight Procedures and Scoring
Safety Requirements
General Aircraft Requirements
Additional Information
Eligibility
Entry Form Format
Deadlines
Speedfest Site
---
Mission Requirements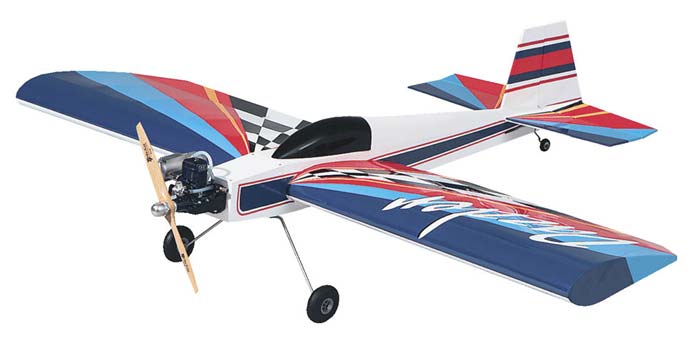 Design Constraints
Glow fuel O.S. 46LA ABN w/Muffler engine only. LINK Unmodified stock engine and stock exhaust.
No part of the stock Dazzler airframe (wings, fuselage, tail) may be omitted, or reduced in size in any way. It is acceptable to add to the airplane, and to use accessories other than those examples indicated by the manufacturer. Examples include: drag reduction devices such as fairings, wheel pants, spinner, etc. Also teams may mount the engine on the firewall in any orientation they wish.
Fuel: The fuel shall be contest-supplied, Cool Power 15% or equivalent. Teams will be fueled while in the queue. Before receiving the fuel, teams must be able to confirm to a judge that their fuel tank is empty.
ROG (Rise off ground) only. No launch assist of any type. Nothing may be intentionally dropped from the plane. Teams may use a flight crew member to hold the airplane at the tail prior to release if they desire. The runway is a smooth geotextile material, and is 60 ft wide by 600 ft long.
---
Flight Procedures and Scoring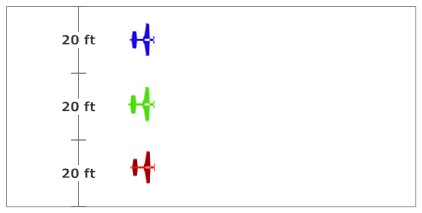 Spotters will hold the airplanes from behind. The Starter will call "ready" at which time the pilots may apply full throttle. The Starter will raise and lower the starting flag, at approximately 1 second intervals. Each plane will take off in sequence starting from the outermost plane.
Timer starts when the Starters flag first drops.
Laps are performed in left-handed ovals as indicated in the figure below.
The course will be administered similar to the standard Academy of Model Aeronautics (AMA) 2-pylon course method. Each team will provide a two flight crew members to serve as turn indicators, and will stand next to the Cut Judges. When a plane crosses the turn line, they will signal their caller by raising a flag. Teams must bring thier own flags. The flags should be at least 18in x 18in, and attached to a short stick. On both sides of each flag, the team number must be indicated, and be at least 15 inches tall. Flags may be any material, color, and design.
Cut Judges located near the spectator line, will use a sighting guide to determine when a plane has passed a turn line, and if a flag has been raised early, or if a plane has "cut" the turn. If a cut occurs, the judge will identify the number of the offending team, and indicate a disqualification (DQ) for that flight attempt. If a plane is DQ'ed, the pilot should land as soon as possible.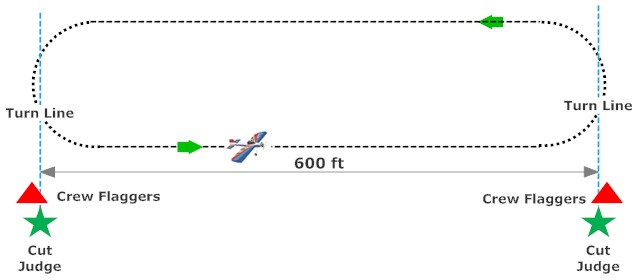 Score:

Scoring is based on distance traveled (laps) within two minutes, on a course with 2 turn markers spaced 600ft. apart. One point is awarded for each turn marker crossed (including the first). Where a plane finishes in any one heat does not affect score. Teams are ranked on the

best

score that they obtained at any point during the event.
Tiebreaker:

Teams in a tie will race head to head for fastest time to complete 10 laps. If more than three teams are in a tie, multiple heats will be used, and best time will determine the winner.
Additional Awards
:
In addition to the Speedfest Cup awards for racing, and the
optional promotional video award
, the Speedfest organizers will make additional awards to India class teams in the following categories:
Heat Wins Champion
Best Airplane Build
Best Airplane Graphics
Team Spirit
---
Safety Requirements
Safety must be the number one priority of all contest participants. The Speedfest organizers have gone to great lengths to keep the event safe for participants and spectators. Please carefully note the following:
India class teams must have a mentor who is an AMA member. The mentor need-not be the contest pilot, and may be anyone with experience building, and flying RC airplanes.
Speedfest is conducted under compliance with FAA AC 91-57. As such it is an AMA event. Contestants are expected to conduct themselves, and operate their aircraft in accordance to the AMA Safety Code. (the following link contains all AMA documents including the Safety Code: http://www.modelaircraft.org/documents.aspx)
AMA racing rules require every person beyond the spectator line (including officials), to properly wear a helmet approved by OSHA, DOT, ANSI, SNELL,NOCSAE or other recognized organization that certifies safety equipment. There is a very wide variety of helmets that meet these criteria including; skateboarding helmets, bicycle helmets, construction hard-hats, etc.
Any flight crew member handling the aircraft during a mission, or when performing engine runups, must wear official safety glasses and gloves (leather, or other types of whole-hand cut-resistant gloves are acceptable).
Flight Crew: Minimum flight crew required is 4 members (Pilot, Caller, and 2 Flagmen). Beyond that, the number and makeup of the flight crew is at the discretion of each team, however it may consist of a maximum of 7 team members. Functions of flight crew members may be combined if desired. All must verify current AMA membership at the event. Typical flight crew functions include:

Pilot: The person flying the aircraft. (Speedfest is not a contest appropriate for new pilots. Teams should use experienced pilots with a record of safety, or use official Speedfest pilots.)

Caller: Stands by the pilot to call turns.
Any level of flight autonomy must be compliant with AMA rules (See http://www.modelaircraft.org/files/560.pdf)



When a team is called for a flight, only flight crew may enter the field beyond the spectator area.
All aircraft to be flown must go through an airworthiness inspection outlined below.
Make sure you conduct your test flights

only

at an AMA-sanctioned airfield. There are sanctioned clubs throughout the state. Your AMA mentor can assist you with access to a sanctioned flying site. Additionally, you may go to the AMA club locator site to find one near you.
For teams not familiar with AMA contest airworthiness inspections, it is recommended that an experienced RC pilot or AMA Contest Director assist the team with an airworthiness inspection prior to travelling to the Speedfest in order to reduce the chances of a delay requiring repairs or modifications.
Teams must sign an AMA Pylon racing waiver form (AMA document #320). The waiver will be provided to teams at the contest during registration. If a flight crew member is under 18, a parent or guardian must sign the waiver.
All team members, who attend the event should be AMA members. It is the opinion of the organizers that all team members, must be committed to the AMA safety code when designing, building, and flying, unmanned aircraft.
Each team must bring a small, class ABC fire extinguisher for their work area.
Engines or motors must not be started in the teams pit area. There will be designated areas for engine runup and testing.
---
General Aircraft Requirements
Landing Gear
No part of the aircraft may be jettisoned or fall off, including, landing gear which must stay with the aircraft at all times. For example, no "dollies" or sleds.
Propeller
Metal propellers are prohibited.
Teams must paint the tips of their propellers (at least 0.5 inches) on both sides, white, or another bright color. This is to reduce chances of injury. (Teams should balance their propellers

after

they are painted.)
Radio Gear:
Only 2.4 GHz spread spectrum radios will be allowed. A standard radio range check will be conducted.
Range check and Fail-Safe:
Aircraft receivers must be programmed with a fail safe system which will cut off engine power if signal is lost or interrupted. Operation of this feature must be demonstrated. A standard range check must also be demonstrated using the procedure detailed in the transmitter manual.


Team Numbering
Each team will mark their airplane with their team number which will be assigned by the Speedfest organizers. Each airplane must be numbered on the port wing (left side as viewed from sitting in the cockpit) top AND bottom of the wing. Numbers must be 10 inches tall, and at least 1 inch thick. The bottom of the number should face the wingtip so that the judges can easily read the team number during turns. Teams may choose the number colors, but the color chosen should be the highest contrast possible with the background color of the wing so that it is easy to see from a distance. Teams should take care to choose fonts, or number styles so that it is difficult to mistake a number when it is upside down (such as 6 and 9) or from other numbers (1 and 7, 4 and 9). The picture below illustrates a properly numbered airplane: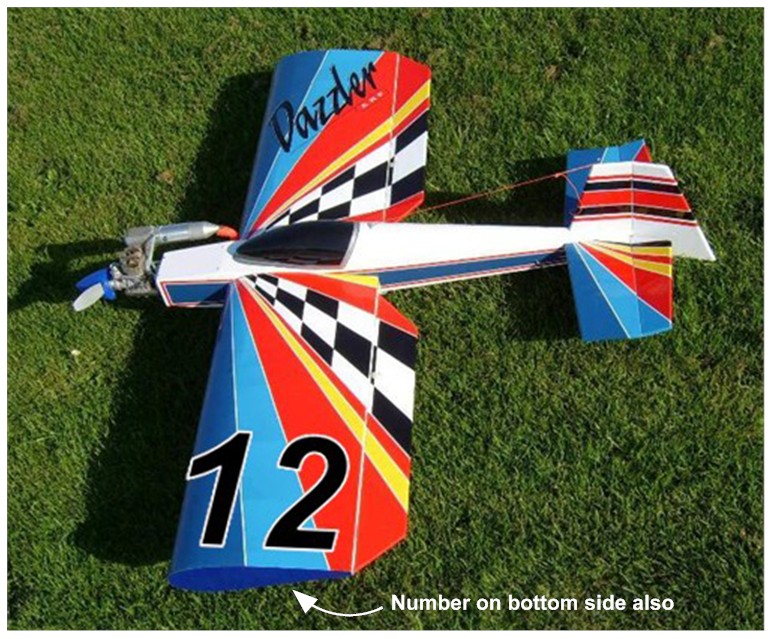 Preflight Airworthiness Inspection of Aircraft
During registration, all aircraft shall undergo a safety inspection. Safety inspections will be conducted using the same team queue numbers discussed above.
Safety inspectors will be simply checking the following:
Push/pull rods or cables, control horns, and servo leads shall be installed in such a way that they will not become disconnected in flight. Clevises must have a "keeper mechanism."
All screws holding the engine to the mount and the mount to the firewall shall be in place and secure.
For India class: The radio receiver and battery pack shall be surrounded by soft foam rubber or other vibration-dampening material and adequately protected against contamination by engine exhaust, raw fuel, or fuel residue.
Control surfaces shall be firm on the hinge line without excessive play.
Servos shall be mounted securely with little play.
Pushrods shall have only one threaded end that is free to turn.
Wings, if removable, shall be securely attached to the fuselage by some mechanical means such as bolts.
The aircraft shall be free of obvious indications of structural damage which may compromise safety.
Alpha aircraft must have an external arming shunt discussed in the Safety Requirements section.
Spinner or prop nut used to secure propeller.
Teams must have propeller tips painted a bright color.
Range check and fail-safe check
Safety Gear Check: Flight crew must verify that each member has a helmet. Flight crew airplane handlers must also verify gloves and safety glasses. Teams must each bring their own safety gear.
Proof of prior flight. Teams must demonstrate proof of prior flight. This may be done using pictures or video evidence.
Repairs:
Any aircraft that has been damaged after a safety inspection or has a known history of problems shall not be permitted to fly until it has been satisfactorily repaired and re-inspected. Materials used for repair may come from any source.



Confirmation of class rules

:
Judges will also confirm that all aircraft entered comply with the Design Constraints listed above.
---
Additional Information
Each team will be provided at least 3 flight attempt opportunities per class entered. The best score of all attempts will be retained.
Design objectives have been created to be as straightforward as possible to minimize the chances of ambiguity, or multiple interpretations. If however, there are questions about the contest, please email the address found below in the Entry Form Format section.
Speedfest objectives and scoring have been designed to minimize the effect of weather conditions. Expect competition to continue unless winds are above 30 mph sustained, or if there is continuous rain.
Speedfest is a competition between

teams

. There are no restrictions on repairs, spare parts, replacement aircraft, etc. Repaired and replacement planes must still conform to the rules for a particular class. If an aircraft is damaged to an extent that airworthiness may be questioned, and is to be re-flown, the airplane must go through the airworthiness inspection again. Also, if a replacement plane is used, it must also go through the airworthiness inspection.
Contest-Day Information

Teams may request a Speedfest Pilot at the event, however, they may

not

request a specific pilot. This is to make sure that heats may be scheduled efficiently, and without concern about which teams cannot fly in the same heat. For teams that require a Speedfest pilot at the event, pilots will be assigned on a rotation.
Speedfest Officials will consist of: volunteers from the aerospace industry, universities and govt., experienced contest directors and AMA representatives.
Mandatory Items to bring:
Current AMA membership cards for flight crews

Small Class ABC Fire extinguisher
Helmets, safety glasses, and gloves for Flight Crew listed above.

There will be limited electrical service for individual teams. A charging station will be provided where teams may connect their charging equipment.
Flight Sequence
Teams will be called based on the scheduled heats. When teams are called, they will need to go get their fuel and line up in the queue outside of the hangar.
Only teams that are called to the flight line may pass the spectator line and enter the course. They must wear the appropriate safety gear.
When called to the flightline, teams must move quickly and be prepared to follow instructions from the Starter.
Any questions regarding rules will be resolved by the contest director.
India Class: A two minute countdown timer will begin when teams are called to the flight line. Within that time, teams must get to their starting location on the runway, and start their airplane. When time expires, the flightline judge will clear the runway, at which time starters/spotters must clear the runway. If a team's airplane is not running at that time, they must immediately leave the runway. When the runway is clear, the flightline judge will immediately start the race. When time expires, teams have two minutes to land and clear the runway.

(Updated 4_01_2013)
Optional Speedfest Team Promotional Video Award



Speedfest Teams that create promotional videos have the opportunity to be recognized at the event, and to receive awards. Videos can promote: their team, airplane, school, Speedfest, or any combination of these in an entertaining and informative way.

Guidelines:

Videos may be no more than 2 minutes in length total.
May not refer to specific competitors teams in a negative light.
May not contain material considered to be obscene by professional standards.
Royalty-free music is preferred so that we may post your video publicly. If your video contains copyrighted material, it must conform to "fair use" standards, and be postable on sites such as YouTube, Livestream, Facebook, etc.

Teams will link their videos to the SpeedfestUSA page no later than April 12, and the winner will be chosen by electronic voting. There are no restrictions on who may vote. Votes will be accumulated from April 12, until Speedfest contest day.

---
Eligibility
Team members (other than pilots and mentors), must be students of the institution.
Each team must have an advisor who is a teacher or other approved representative from the institution.

All team members should be current AMA members. Flight crew

must

be AMA members. Only full memberships, or Youth memberships are acceptable (Park Pilot memberships are not acceptable for Speedfest.) Note that for students age 19 and under, AMA has a Free Youth membership.
An institution may enter a second team if the following conditions are met:

The institution has participated in Speedfest previously
The reason for entry of more than one team is justified based on excessive team size or some other educational rationale
The two teams must be distinct (as they are competing against each other). There must be no members common to both teams other than faculty/staff and/or the mentor. Team names and aircraft markings must be different as well.
---
Entry Form Format
1 October, 2012: India Class Entries for Speedfest III have reached the limit. No more can be accepted. High school students and teachers are still welcome to attend and volunteer at the event.


Send an email with the following information in the following format for each team entered:
- Team Name
- Academic institution name.
- Team Contact information
- Class to be entered

In the

Subject line

of your email write: "Speedfest Entry Request, (Team Name), (date)"



Subject line example:

Speedfest Entry Request, SHS Lancers, 21Sept2012
Send entries to:

T

o keep the Speedfest manageable and enjoyable, a limited number of teams will be invited on a first-come basis.
---
Deadlines
Teams may enter at any time.
Rules are subject to change until September 30. After this date, rules become final.
Optional Promotional Video due no later than April 12

---
Contest Site
Speedfest is held at the Unmanned Aircraft Flight Station (UAFS) in Stillwater, Oklahoma.
GPS Location: lat=36.1632229 lon=-96.836514
Stillwater Oklahoma is approximately 75 miles from two major airports: Tulsa International Airport in Tulsa, OK, and Will Rogers Airport in Oklahoma City, OK.

Airfield Directions:

From

all

directions, the best way to get to the UAFS is to drive to the intersection of Hwy 51 (E 6th st.) and N. Clay Road (bulls-eye in map below). Then take Clay road north approximately 3.2 miles. The UAFS is just north of the intersection of N. Clay Rd. and E. Airport Rd.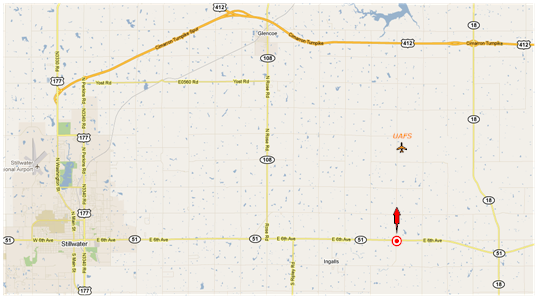 Speedfest Site Diagram and Course Layout
India Class News and Answers to Questions
News

2 February, 2013: Note the new requirement for "proof of prior flight." This may be accomplished using pictures or video. Also, if needed, teams may fly Friday afternoon, or saturday morning of the contest between 7-8:30

1 October, 2012: India Class Entries for Speedfest III have reached the limit. No more can be accepted. High school students and teachers are still welcome to attend and volunteer at the event.
Answers to Questions